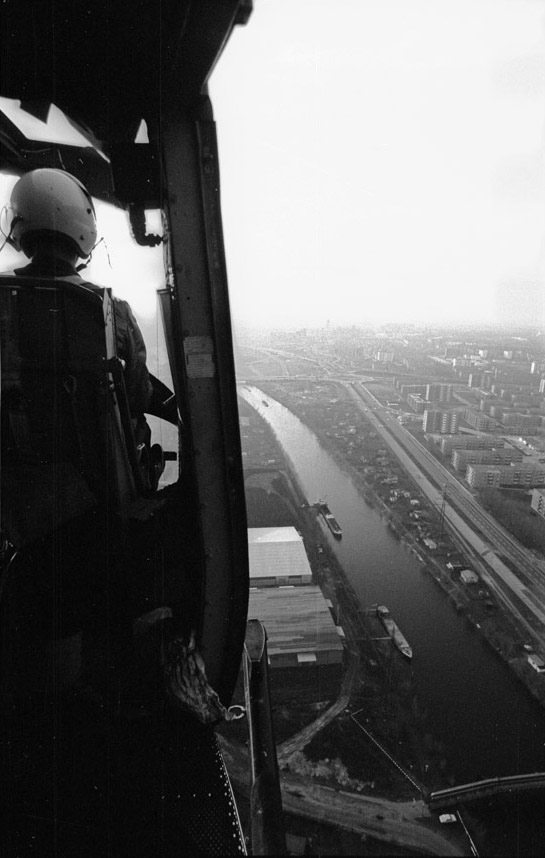 Helicopter over Berlin for Paris Match, Feb 20, 1965 issue

Paris Match did a story on East Berlin featuring the huge Soviet War Memorial, The Hitler Bunker, and a great map of the border between the East and West sectors of the City. I did all the Berlin work for Paris Match those years, and therefore covered this story. I did the photos of the Memorial and the Bunker, etc. by myself without help. But because there were no accurate maps of the borders available, Paris Match sent me up in a helicopter to make the aerial photos, from which they then made the map.

The copter was old and rather small, with the large side door open, so I could photograph out the door. It was all exhilarating until the following happened: we were strapped into our seats by only a single frayed, much-used seat belt around our waists. No shoulder belt or anything else whatsoever holding us in. For most of the flight everything went well and I got lots of shots leaning out of the door. Then the pilot made a sharp right turn, which tipped the copter sideways a full 90 degrees. I suddenly found myself hanging down out of the door with only that single seat belt keeping me from falling to my death. It was the heart jump up in one's throat time, but there was absolutely nothing at all that I could do about it. So I just did an Autogenic Training relaxation technique while I went on shooting.

The story appeared on the above February 30th date. Paris Match got the color photos. But I had three cameras with me and did my own B&W shots for myself, including this one showing the pilot, done with a 20mm Wide angle lens.
© 1965 - 2005 Mark Anstendig. All rights reserved.
Gallery | People | Places | Pets | Odds and Ends | Messraster | Photos of Me | Anstendig Institute Artwork | Contact Me
Click on the Gallery to see the full list of categories.