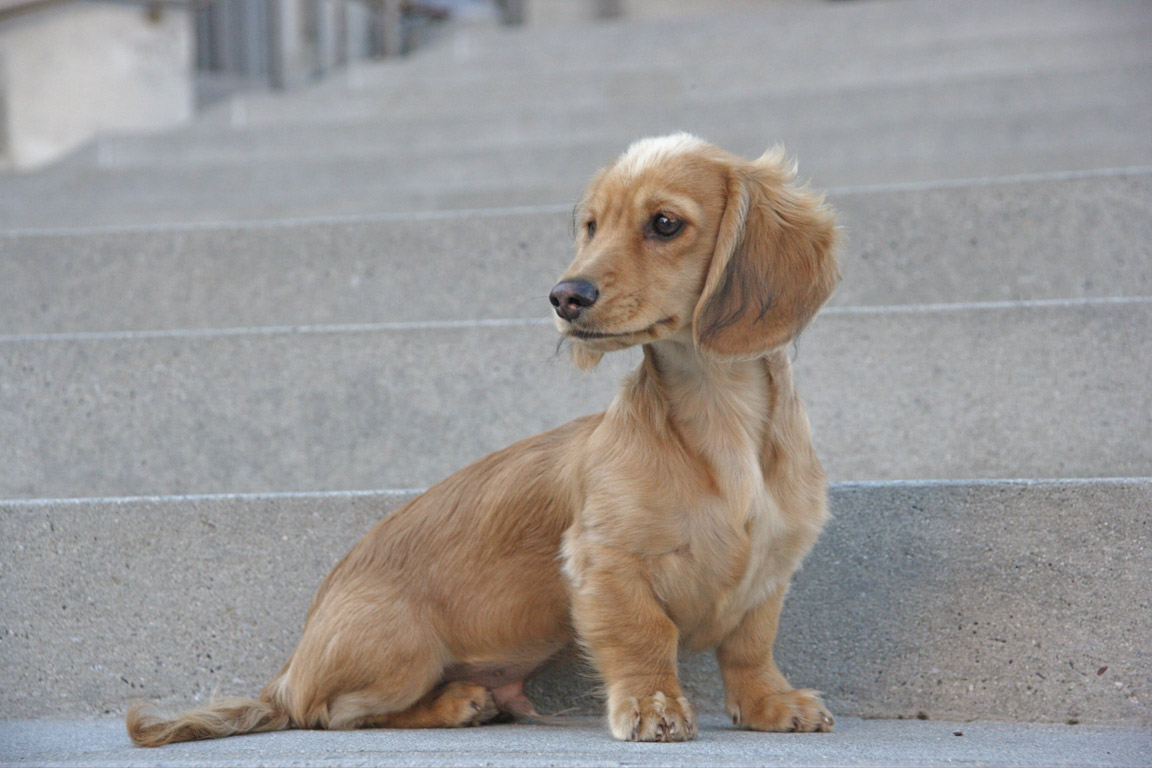 Mr. Eckart's Max
Mr. Eckart is the only barber who can cut my hair, which is curly-wavy and extremely difficult to cut with the waves. For the last year, I have let it grow long. But until then, it was short and impossible to cut well except by a master. After a life of looking, I found Eckart in 1971 from a column by San Francisco's great writer Herb Caen, who mentioned that he went to Eckart. Eckart is my age, German, and I speak German fluently, so we get along famously and he really is the master at hair cutting. He and his wife have run Mr. Eckart's, a hair salon in the Fairmont Hotel on Nob Hill for around 40 years now, and each has many times been the director of the California Association of Hair Dressers (or whatever it is called).

Recently, Eckart lost his old German Shepherd dog and got the above, delightful long-hair Dachshund, which he can take with him on the plane when he travels.

Together with my girlfriend Gisela, I owned a thoroughbred long-hair Dachshund in Berlin, during the 60s, which Gisela took me to see when he was born, and we bought together. I really miss him now very much.

So, after having Max in my head for days, to the exclusion of everything else, I met Eckart during lunch one afternoon and we went for a photo walk around Nob Hill, while I made photos of Max.

The above photo, which is the full photo, without any digital manipulation or cropping whatsoever, is exactly how I see that little dog. It captures everything about him. I adore it.
© 2005 Mark B. Anstendig. All rights reserved.
Gallery | People | Places | Pets | Odds and Ends | Messraster | Photos of Me | Anstendig Institute Artwork | Contact Me
Click on the Gallery to see the full list of categories.